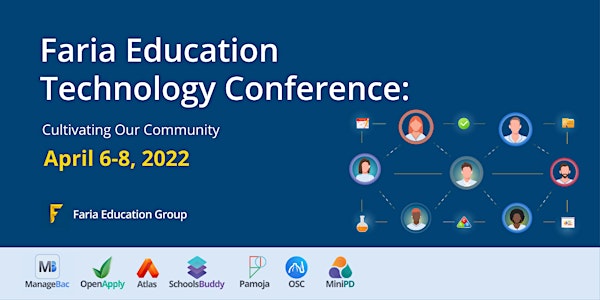 About the Event
The Schools Technology department hosted the 2nd annual Faria Education Technology Conference from April 6th to April 8th 2022. We welcomed over 150 attendees from 44 different countries and 107 schools worldwide to our virtual conference.
Below, you can find the list of presentations, along with a recap message from our presenters.
The theme of the conference was Cultivating Our Community and the feedback we received suggests that we did just that. Conference attendees were sharing ideas and experiences across the three days, swapping contacts and joining our year-round Discord community to keep in touch. Our incredible presenters tackled subjects on these four themes:
Leadership: The Role of the Tech Director
API integrations: Solutions built with low- and full-code tools
Data Analytics: Gaining insights into your data
Process Management: Ensuring the community and systems are in sync
In Leadership, presenters shared their professional journeys, building the relationships they needed to bring technology to an integral part of school life. In API integrations, presenters shared tips and tricks with the APIs to solve everyday challenges. In Data Analytics, we saw how schools are creating dashboards to drive change with actionable data insights, and in Process Management we saw how connected systems lead to efficient, effective schools.
Recap
David Miles, Director of IT Integration, Verdala International School, kicked off the conference with a relatable story: "Hello, World! "Tech Director" - starting from scratch
After transitioning from being the HS Principal, into a newly created role of Director of IT Integration, this was a personal & professional reflection on what had been learned over the past year. Key strategic priorities & resources were identified, with a core message that the Tech Director role is a core strategic and operational leadership role which should not be optional in any school
Viktor Datsiuk, Director of Technology, Shanghai Singapore International School, shared their digital transformation journey from the point of view of our customer journeys and touch points in: Empower Your Community with Tech
Viktor Datsiuk is the Director of Technology at Shanghai Singapore International School. He has an MBA and a Masters in Teaching and Psychology, with a career that includes stints in corporate and private businesses and international education.
"With the modern technology stack of FariaOne and integration support we are able to not only bring the whole school community onto a single collaboration space, we are also confident about the future ability to better serve our students, parents and educators."
Adam Morris, Faria Education Group Schools Technology & Integrations Director, showed how to use G-Sheets with APIs to download from an upstream data source in: Spreadsheets with Super Powers: An API in every Tab
Spreadsheets are essential tools, but wouldn't they even better if you could populate them with data from ManageBac? This presentation discussed the tool that does exactly that, and also the reasons behind creating it in the first place.
Ryan Persaud, Director of IT and Innovation, The International School of Curitiba, shared his belief that the role of Tech Director is one of the most dynamic and underrated roles in a school setting. and how to shift perception in: Taking the "Tech" out of Tech Director: Why we must be seen as Leaders
The Roles and responsibilities of the IT Director are so far reaching and integral to the school environment that it is imperative that they have a seat at the leadership table. Not only do IT Directors bring a vision for technology and innovation for the school, but even more importantly they bring with them a plethora of other skill sets which have school wide and community impact. We have seen IT Directors write policy, set strategic direction, push into classrooms, plan workshops and conferences, sit on a variety of committees, and a host of other duties. This role certainly has far more reach than its own title gives it credit for!

James Abela, Head of Computing, Garden International School, explored the disconnect between most teachers and a table of figures in: Why Don't People Love Data?
Look through the framework of: Data Entered, Data Sorted, Presented Visually & Explained With a Story. Encourages leadership to ask the questions: What data has become information that has helped the school? Have parents shown an interest in reports that has led to meaningful conversations? What actionable insights have you found and shared? Have teachers received information that has enabled them to better direct their teaching? Ultimately ensuring everyone sees the benefits of data, is data informed and aware of actionable insights.
Dr Wallen Mphepo, Master Of Mathematics + Entrepreneurship, Avenues Shenzhen, got started with AI/ML Foundations and how to go from Tracking Student Performance to also Prediction & Prescription in: AI/ML Foundations: From Tracking to Prediction
Daniel Costich, Assistant Head of Secondary, Chatsworth International School, Singapore, showcased some examples in which the Managebac API has been used in a school in: The Power of ManageBac API
Farah Misquitta, Head of Education Technology, Oberoi International School, explained the roles and responsibility of a Technology Director in aligning the tech vision with the school vision to achieve community success in: The Confluence of K12 Education Technology Leadership
Ryan Tannenbaum, Owner, for.education, looked at data's place in K-12 educational institutions, both historically and now, and considering how we can use it to empower stakeholders and drive innovation in: Data Driving Schools
Rory Parkinson, ICT Director, International School of Uganda, Kampala, asked "How do you build a high performing IT team that not only succeeds, but enjoys the never ending challenges that inevitably come their way?" in: How to Build a Highly Motivated and Effective IT Team
Michelle Que Ong, ICT Coordinator, St Francis College, helps us connect with our teachers when we aim for authentic and purposeful technology integration in: Human-Centred Coaching and EdTech Integration
As schools integrate technology in the classroom, it is worth reminding ourselves that this must be done purposefully through empathy and by giving agency to both teachers and students. Using Design Thinking, we can connect with our teachers and students when choosing the most appropriate technology integration framework, and create an action plan that can be applied within the context of our school culture. Technologically up-skilling our teachers and preparing our students to be future-ready can be a seamless, collaborative endeavour.

Candelaria Durruty, Digital Learning Coach, St. George's College North & Mercedes Pérez Berbain, Educational Consultant & Teacher Trainer, ESSARP; Pilgrims, UK hosted an experiential and interactive session which invites participants to learn about collaboration and its implications in: How to Foster Collaboration Using Digital Tools
Max Eisl, Director of Sales, Finalsite & Rob Rawcliffe, Sales Engineer, Finalsite examined how whatever your role - IT, marketing, admissions, or school leadership - having systems "talk" to each other is key to sustainable success in: Connecting Your Systems For School Growth, Engagement & Retention
Kipkemoi Serem, VP Data & Academic Systems, The Aga Khan Academy, Mombasa & Joanne Dale, Data & Projects Coordinator, Aga Khan Schools, focussed on how we track student's performance against CEM forecast in: Value Addition Tracking
Paul Swanson, Director of Digital Learning, Stamford American International School, showed a prototype of a new data dashboard that combines data from ManageBac, PowerSchool, NWEA, Google Sheets, and more in: Data Driven Decisions: ManageBac, BigQuery, and Data Studio
Antony Rappai, Tech Director, The Overseas School of Colombo, shares how he leveraged API's to create a student information system, to implement a roster server to create data files and push rosters to various educational apps and more in: My API Journey Continued
Sylvia Johnston, Primary Vice Principal & PYP Coordinator, Berlin Cosmopolitan School urges you to Make Tech Your Superpower - As a school leader leaving this understanding to the tech department is not enough to maximise user experience
In the closing remarks, the Faria team presented two new offerings from the Schools Technology Department; the Systems Map Analysis tool has been launched in Faria Services Manager to aid schools with systems and gap analysis, and the Schools Technology help centre has been created to house further API documentation and guidance on the topics encountered by the professional learning community.
Recordings of the sessions will be available in the "Replay" area of Hopin for the next 12 months. *Please note that breakout rooms within sessions were not recorded. You will need to log in to watch the recordings.
Feedback
Genuine professionals from all backgrounds sharing their knowledge and expertise...Very positive. Thought provoking. Great to hear we're not alone and that there is support and expertise out there and fantastic opportunities for collaborations. - Huw Price, St Leonards
This was by far the greatest PD I've done in years. Great platform used and good timing on all presentations. I took loads away from other presentations, and really like that the others were recorded so I can go back and watch those, as well as re-watch ones in which I didn't have time to jot down key information or resources. - Wayne Voogt, Harare International School
Bringing together people from the same field to freely share and exchange on a scope of very relevant, practical and forward thinking developments and areas. No aggressive marketing push or annoying sales. Makes this event stand out dramatically from other mostly highly marketing / sales-aggressive Edu Tech events - Viktor Datsiuk, Shanghai Singapore International School
Unconference was really cool. The conversation topics and sharing of information was amazing....I learnt a lot and really feel good about what I am currently doing and have a lot of ideas and areas I can improve on. This is one of the best conferences I have attended. - Chad Strachan, St Andrews International School.
Seeing what a wonderful community there is out there for this, and the different approaches they have taken...I look forward to attending future conferences. - Ric Perry, International School of Zug & Luzern
The Conference was hosted by Faria Education Group, including ManageBac, Atlas, OpenApply, SchoolsBuddy, Pamoja, OSC and MiniPD.